---
Dynamometer Testing
One of the most powerful tools used for rod pumped oil well analysis is the dynamometer survey.
Proper application of modern dynamometer technology gives one the clear, concise, and accurate information necessary to make sound operational decisions with a high degree of confidence and success. Anatesco clients have enjoyed the benefits of increased production and lower lifting costs for years using our efficient and easy to use technology.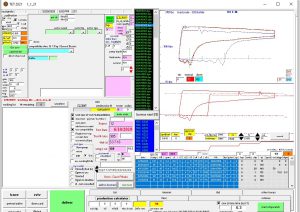 Data such a fluid levels, pump displacement, pump fill and slip, tubing and casing pressure, flowline temperature, pumping unit information, polished rod loads, and rod string stress are just some of the standard data obtained during a typical test. Over 120 site observation codes can be used to describe site conditions that may involve observed mechanical problems, hazards or other information deemed of value to our clients. Whether its a pitted polished rod, slipping drive belts, or a crow nesting in the horsehead, our clients will know about it.
Our goal at Anatesco has always been to help our clients end  the frustration of operating producing wells in a never ending process of trial and error, guesstimating, and tail chasing. And we believe our hardware, software, and unrivaled service is just what is necessary to do just that.
---
DynoGauge 
When operators need a deeper understanding of well performance or performance over a longer time slice or just the best production gauge possible, they turn to the DynoGauge.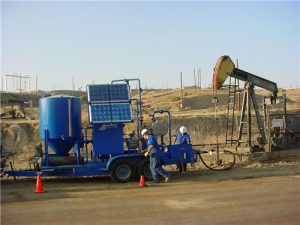 The DynoGauge is a standalone portable well test system designed to provide real time fluid production and dyno data for a side by side comparison of subsurface pump displacement vs. surface measured production. This provides for a unique look at well performance that clearly reveals many common and otherwise hard to detect problems. While the Dyno is a snapshot, the DynoGauge is a movie.
Tubing leaks, intermittent gas locking, and out of round pump balls not seating consistently are just a few of the easy to spot problems using the DynoGauge.
The DynoGauge utilizes several known and generally accepted components as well as some new and unique innovations that result in an accurate, consistent, and low cost, measurement and reporting system.
"DynoGauge tests don't just tell you how much your wells are producing – but why – and better yet, offers real solutions to problem wells".
---
The MiniGauge
Developed to quickly and accurately measure produced fluids in low volume wells, the MiniGauge is setup with smaller and shorter piping for fast to sampler action and manual gross and water cut measurements.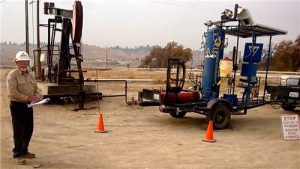 Gross production is measured by direct sight-glass observation in a pressurized vessel, whereas the water cut is obtained by a direct to test tube iso-kinetic automatic fluid sampler.
MiniGauges are available to test 0-30 b/d and 10-100 b/d gross fluid producers.
MiniGauge results look like regular DynoGauges with strip charts of gross, net, and dyno pump displacements with similar summaries and full reports..
---
Sonic Fluid Levels

Sonic fluid levels are obtained by using a special pressure generator (blank .45 cal. or 10 gauge) or inert pressurized gas (usually nitrogen) to send a pressure wave down the casing and an acoustic sensing device and chart recorder to determine the fluid level downhole.
The time taken for a return echo bounced back from the fluid is recorded and used to calculate the actual fluid level. However, more accurate results are obtained by counting smaller echoes from tubing collars or using other "jewelry"  in the casing /tubing annulus to correlate the these known distances to the larger fluid echo.
Our conventional sonic fluid level report includes a summary when not used in conjunction with our dynamometer service.
The sonic can also be integrated with the full Vital Element Test  (VET) and the Production Efficiency Test (PET) to compare the sonic level to the level calculated from the dyno.
Notes
Anatesco offers various reporting options:
DynoEZE … Full featured dynamometer processor showing historical trends, economic calculator, etc. (recommended tor advanced users only)
DynoMagic …. Excel spreadsheet summaries  with imbedded data points as well as data displayed graphically
Hardcopy … Printed summaries of relevant data