About the DynoGauge
When operators need a deeper understanding of well performance or performance over a longer time slice or just the best production gauge possible, they turn to the DynoGauge.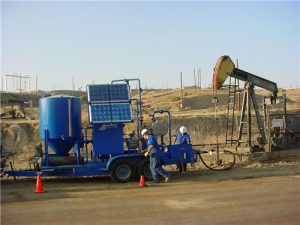 The DynoGauge is a standalone portable well test system designed to provide real time fluid production and dyno data for a side by side comparison of subsurface pump displacement vs. surface measured production. This provides for a unique look at well performance that clearly reveals many common and otherwise hard to detect problems. While the Dyno is a snapshot, the DynoGauge is a movie.
Tubing leaks, intermittent gas locking, and out of round pump balls not seating consistently are just a few of the easy to spot problems using the DynoGauge.
The DynoGauge utilizes several known and generally accepted components as well as some new and unique innovations that result in an accurate, consistent, and low cost, measurement and reporting system.
"DynoGauge tests don't just tell you how much your wells are producing – but why – and better yet, offers real solutions to problem wells".
For more information about the DynoGauge or to set up a consultation, call us any time at (661) 571-1471.